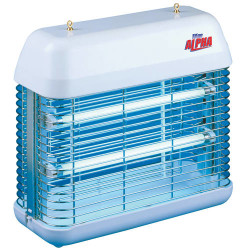 Electronic Fly Killers attract flies with a UV light tube which are then either zapped by a killing grid or they stick to a sticky board hidden in the fly control unit.
This unit has two powerful 15-watt tubes giving coverage over 160m². Ideal for use in shops, kitchens, cafes and take-aways. Please contact us for units for larger areas.
Coverage: Suspended/Freestanding: 160m² Wall-mounted: 80m²
Dimensions: H x W x D = 30.5 x 35 x 15cm Weight: 4kg
Price: £70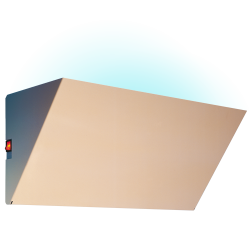 Attractive, wall-mounted unit
A perfect choice for areas where fly control needs to be discreet, ideal for  restaurants, cafe's  and other eating areas.  This fly control unit is disguised as a wall light with full-size sticky board and a 15-watt Quantum BL tube.
The front cover can be decorated to match your existing decoration. Front covers are available in magnolia, white and silver.
Dimensions: H x W x D = 21 x 47 x 17cm
Weight: 3.7kg Coverage: Wall-mounted: 40m²
Price: £145